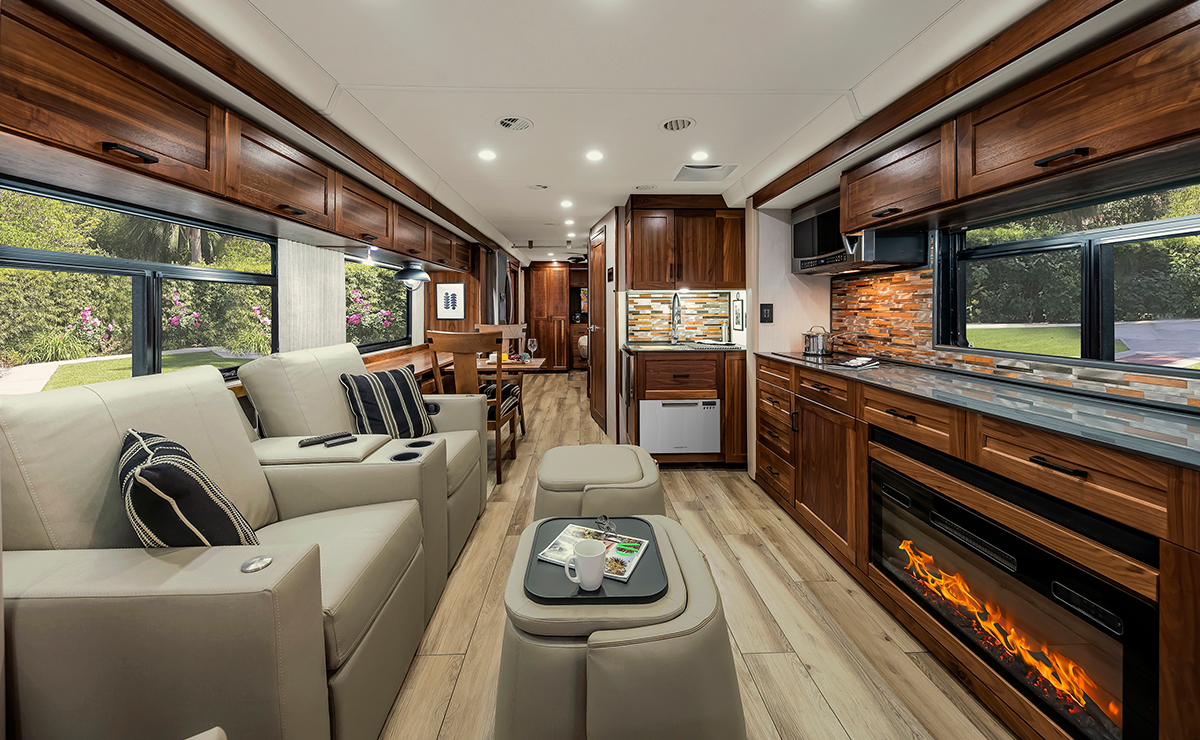 Winnebago Journey Product Information
Winnebago Journey Questions?
Aqua-Hot Heating System Maintenance in the Winnebago Journey  
The Winnebago Journey was inspired in development from automotive design experts with a focus on quiet performance and aerodynamic design. Built atop the Freightliner XCM modular rail bridge chassis, the Journey will be known for its versatile floorplan designs with the latest in residential living comforts and technology.
Inside the Winnebago Journey you'll find one of these technological advances, the Aqua-Hot 400D heating system. The Aqua-Hot system uses hydronic heating, which is heating that uses liquid. This system is actually three systems in one. It includes the Interior Heating System, the Hot Water System and the Bay Heating System.
Learn More about the Aqua-Hot Seating System here: The Aqua-Hot Heating System in the Winnebago Journey
Once you have your Journey, there are recommended preventative maintenance items that the Aqua-Hot manufacturer suggests you perform to keep your Aqua-Hot system check valves from sticking in the heating zones and the nozzle from clogging.
MONTHLY MAINTENANCE:
Turn diesel burner on
Turn thermostat to heat
Set the thermostat high enough for the heat to come on
Wait 5 minutes and make sure you feel heat at the heat exchanger
Exercise the mixer valve
ANNUAL MAINTENANCE:
Check % of Propylene Glycol (when cold) using a refractometer
Check for proper fill level (when hot)
Replace the nozzle on the burner
Replace the fuel filter
The recommended boiler Antifreeze is a 35-50% propylene glycol to distilled water mixture.
When the Journey is stored where freezing temperatures may be experienced, exposing the Aqua-Hot system to freezing temperatures, the domestic hot water system must be winterized. For those needing to Winterize their Winnebago Journey, Aqua-Hot provides the following winterization procedure recommendations. The Domestic Hot Water loop can only be winterized by running RV wintering fluid thru the hot water lines in the RV, blowing them out with air will not work. The Aqua-Hot can still be used for interior zone heating once the domestic hot water system is winterized. If the system is not winterized the copper coil could freeze and burst.
The Winnebago Journey diesel pusher was designed for luxury travel and entertaining and the Aqua-Hot System provides the comfort and ease to make that possible. Proper maintenance of the system is imperative to ensure you are receiving its full benefit and to prevent costly repairs. Call a Lichtsinn RV Sales Consultant today to find out more about the Winnebago Journey and the Aqua-Hot System.
Click here for Winnebago Journeys for Sale
Call a Lichtsinn RV Sales Consultant today to find out more.